When it comes to curiosity and self-expression, arts and crafts can be a crucial way to develop those tenets in your child. Whether it's through the canvas or on paper, the importance of arts and crafts cannot be overstated for children. Here are some of the benefits it provides for your little one.
Developing Curiosity
Arts and crafts are perfect for developing curiosity in your young children! With such, your child will get to explore the wonders of their mind and turn it into something tangible. 
Arts and crafts are a great way to introduce your child to new concepts and ideas. They help them learn about the world around them, understand other people and themselves better, how their feelings work, and more. Arts and crafts can be used for many different purposes but one of the most important is allowing children to express themselves in ways they might not otherwise have been able to.
Whether it's drawing, painting, or creating art projects with clay, children can freely express themselves and their emotions. It can help children process the good days and also the bad — and that's okay because arts and crafts are a productive outlet!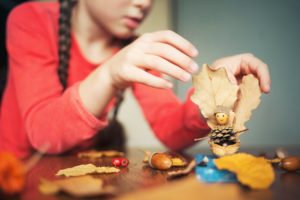 And especially with Thanksgiving coming up, you can help your child come up with a creative Thanksgiving craft for the holiday! You can even help your child with this adorable thankful turkey craft — all you need is some construction paper, two googly eyes, glue, and some scissors. Guide your children with kid-friendly scissors and cut out two circles (one small for the head, one large for the body) and a number of feather-shaped pieces. Your child should write one thing they're grateful for on each feather. 
Glue it all together and you have one awesome thankful turkey to hang around your house!
Arts and Crafts Are Perfect for Self-Expression
Art and crafts are a great way for children to express themselves and explore the world around them. Art allows kids to use their creative juices and let go of any inhibitions they may have, allowing them to be expressive in ways they might not otherwise feel comfortable doing. For example, some children may have trouble verbalizing or physically expressing themselves — this is where art comes in, as it allows children to express themselves in an abstract manner.
Creative expression can help children develop self-esteem as well as become more confident when communicating with others. Kids who are given the opportunity to create art tend to embrace this chance, as art provides a new outlet to speak thoughts into existence that are challenging to express otherwise.
A Better Understanding of the World
The arts and crafts are a great way to allow your children to express their inner creativity — on top of giving them a better understanding of the world. 
They can let their imaginations run wild, free from the constraints of reality. When you want them to create something, set up an art space with all the materials they need right there at hand. Ask them questions like: "what color should we paint our room?" or "how would you decorate this house if it were yours?"
Giving your child options with colors — whether it's paint, crayons, or any other form of art — and letting them choose can be one of the most mentally freeing things for a child. Without any constraints, children can learn firsthand what exactly works and what doesn't. These skills can then be translated into the real world — whether it's in the classroom or at home doing chores.
Exploring Arts and Crafts at Buckley
At Buckley Day Camp, we offer an expansive set of arts and crafts programs — which range between Performing Arts, Dance, Creative Arts-n-Crafts, Painting and Sculpture, and more. To learn more about our art programs and how your child can grow from them, please visit our website and contact us today!