"Nobody cares more about my child than the staff at Buckley.  What more could a mom want?" – Camp Parent, New York City
Buckley Day Camp offers one of the highest staff-to-child ratios in the camping industry. With an overall ratio of approximately 1 staff to every 3 campers, we ensure that the needs of each camper and his/her family are met daily.
Did you know: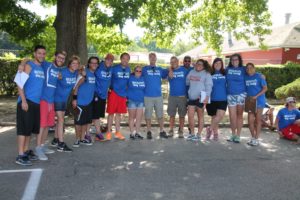 Our retention rate for staff is over 65%.  We continue to bring back the right staff each summer whose goal is to make each child's experience at Buckley special.
Each of our groups are led by a certified teacher and/or mature adult currently pursuing a graduate degree in education or similar field.
Most of our counselors are former campers at Buckley.  They keep coming back each summer because of their passion and dedication to the camp that gave them so much.
Our leadership team has a mix of educators and camp professionals with over 100 years experience in day and resident camps.