The New Year is meant to be a joyous occasion for all. In light of the New Year, parents can band together with their children for many activities and even set New Year's resolutions together. Here's how you and your family can celebrate the month of January and make 2023 a year to remember.
Ringing in the New Year with the Ball Drop
The New Year's Eve Ball Drop is a pleasant way to dole out time before turning the page into a New Year. It's an awe-inspiring, long-running tradition that allows kids and adults alike to count down the seconds until midnight, when they can start celebrating the New Year.
The ball drop usually occurs in New York City. If you and your family can make it out to Manhattan, you can create a lifetime of everlasting memories by witnessing the ball drop firsthand. But if you're unable to, however, this presents a perfect opportunity for families to set up a home party for parents and children alike.
Decorate the home with the appropriate New Year's decorations and have the TV running with the ball drop. Complete the atmosphere with holiday music and even round out the night with some games!
New Year's Games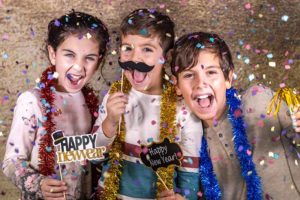 What is any holiday without the games?! Here are some ideas for games for you and your children:
Quality Family Time
At the end of a long day, it's important to take some time for yourself and your family. In fact, quality family time is an essential part of any healthy lifestyle. 
New Year's Eve is a great time to spend quality time with your child. It can be a difficult time for parents who are working or have other responsibilities during the holiday, but it's important that you make an effort to be there for your kids. New Year's Eve is also a good time to teach your child about the new year and what it means. Even if they're too young to understand what it means, they will learn from watching you how important this holiday is for everyone in our society.
And after the ball drop, you can relax together with a good book or movie before going to bed at night. Or you could enjoy each other's company by engaging in an activity that both interests you — whether it's playing board games or ending the night with some sweet treats! Studies have shown that spending quality time with your child improves their mental health and cognitive development. This will help them grow up into happy, successful adults.